It is essentially in and through the body that all our life experiences are lived, felt and memorised – like to be loved, to be cared for, to be hurt, to be abandoned, to be overwhelmed, or to be controlled. It is where we experience pleasure, and it is where we experience trauma, accidents, and so forth. Our bodies, our cells, always remember, even when our mind forgets.
To survive the inevitable frustrations, whether minor or major, that we encounter in our lives, or to protect ourselves from suffering, whether real or imaginary, we create defenses in many dimensions, which we carry in our body: it becomes tense and painful. Our body also manifests our discomfort and dis-eases.
Body psychotherapy helps us become conscious of these strategies, release trauma, suffering and tension, freeing the body, the energy and the Self.
My approach to Body Work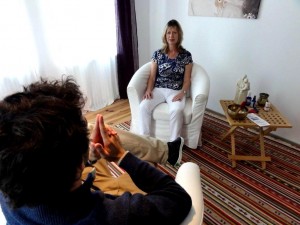 I started to study psychotherapy – and embarked on my own transformational journey – in June 1993, after a major personal crisis. I have never stopped studying since. I discovered that talking sessions could meet our need for contact: talking, being heard, being listened to, and being understood.
However, for a therapy to be truly efficient and to give lasting results, each part of our consciousness in the mind needs to be followed by an awakening experience anchored in the body.
Amongst many other professional therapy modalities like Gestalt and Carl Rogers, I studied Integrative Body Psychotherapy (IBP) in Belgium at the IPCI for 4 years and worked there as a training assistant for a further 3 years. To deepen my learning, I then studied energy healing for 4 years at the Barbara Brennan School of Healing Europe, where I experienced and acquired many other tools for body work and consciousness.
Today my body psychotherapy approach is a fully integrative body-emotions-mind-spirit therapy. It integrates the best of what I studied and experienced myself within these last 19 years. My approach is mainly inspired by IBP, by the work of Dr. Barbara Brennan, Core Energetics (Dr. John Pierrakos), Pathwork (Eva Pierrakos), Bio-Energy and the tools developed by Alexander Lowen and Wilhelm Reich, the 5 Rhythms Dance (Gabrielle Roth), and the sacred healing sounds that I was initiated to with Jan Janssen and Jill Purce. When needed or upon demand, I also include energy healing with the body work.
My purpose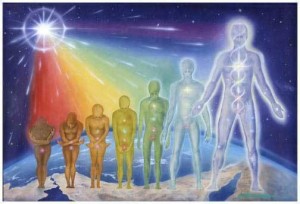 My purpose is to facilitate the personal healing and awakening process that you have initiated, to help you heal your wounds and be healthy, conscious, present, free, creative and alive. To help you open your heart, feel loved, unified. To fully and freely embody and manifest the Light that you Are! It is possible.
Also in this section: