With the vision to accompany women
on a Healing and Awakening Journey,
I facilitate Women Circles in Belgium, in connection with other women circles in the world,
to heal and remember our true and sacred feminine identity,
individually and collectively,
to re-connect to our inner feminine nature and wisdom,
to our ancestors, to our roots, to the Earth.
To awaken,
to take full responsibility for our life,
to support each other in our daily feminine issues and questions,
to heal our inner split and our wounds of separation
with ourselves, with others, with men and with the world.
And, connected to the center of the circle,
to feel our wholeness and our Oneness,
to remember and embody who we truly are: Love.
To honor and celebrate each other, our femininity and our beauty.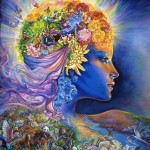 From that place of Unity and Mindfulness,
where our inner feminine and masculine are balanced and alive,
we will learn to meet men from Essence.
The world is changing very fast,
we can be part of this evolution process.
Feel free to contact me to register or to be informed on news.
For all information on our Women's Circles Shakti Divine (calendar, places…) and on all our events, please see the French version of this website. The English translation is under construction and will be published as soon as possible. Thank you for your patience!!